PENGEMBANGAN MEDIA E-COMIC MATERI PERBANDINGAN TRIGONOMETRI PADA SEGITIGA SIKU-SIKU KELAS X SMA NEGERI 1 PURWOREJO
Azizah Galuh Puspasari
Keywords:
E-Comic, Perbandingan Trigonometri
Abstract
Penelitian ini bertujuan untuk: (1) Menghasilkan media E-comic Materi Persamaan Trigonometri di
Kelas X SMA Negeri 1 Purworejo. (2) Mengetahui efek potensial yang muncul dari pengembangan
Media E-Comic pada materi kelas X Perbandingan Trigonometri Pada Segitiga Siku-siku terhadap hasil
tes siswa. Jenis penelitian yang digunakan adalah Development Research tipe Formative Evaluation
dengan Model ADDIE termasuk dalam penelitian serta pengembangan Research and
Development (R&D). Subjek Penelitian adalah siswa Kelas X-I SMA Negeri 1 Purworejo Tahun
Ajaran 2022/2023 dengan 36 siswa. Teknik pengumpulan data pada penelitian ini secara walkthrough,
observasi dan tes. Hasil dari penelitian ini adalah: (1) Penelitian ini menghasilkan media E-comic materi
perbandingan trigonometri pada segitiga siku-siku yang valid dan praktis. (2) Media E-comic yang
dihasilkan memiliki efek potensial yg positif terhadap hasil tes siswa, hal ini dapat dilihat dari siswa
yang mencapai KKM lebih dari 29 siswa.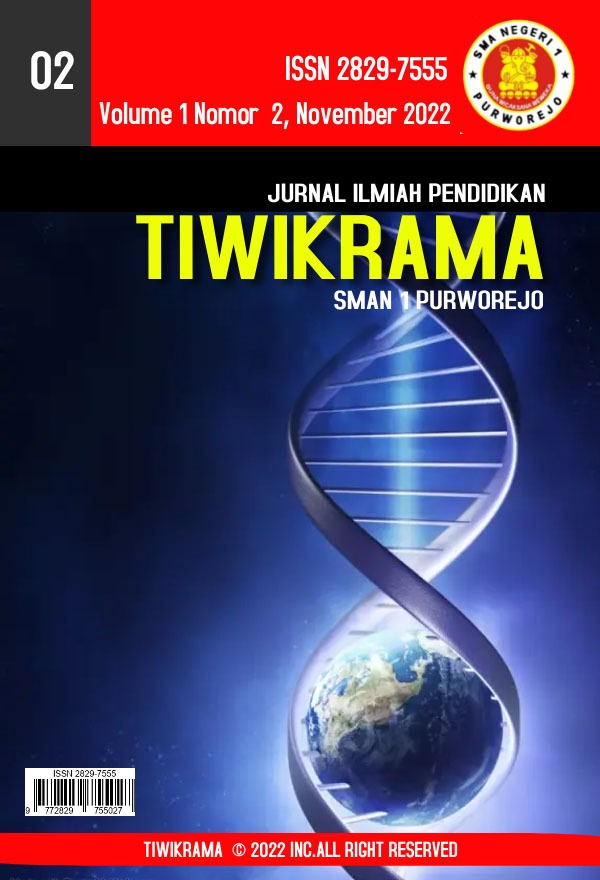 How to Cite
Galuh, A. (2022). PENGEMBANGAN MEDIA E-COMIC MATERI PERBANDINGAN TRIGONOMETRI PADA SEGITIGA SIKU-SIKU KELAS X SMA NEGERI 1 PURWOREJO: Azizah Galuh Puspasari. TIWIKRAMA, 1(02). Retrieved from https://jurnal.sman1purworejo.sch.id/index.php/tiwikrama/article/view/22
Copyright & Licensing
Copyright (c) 2022 TIWIKRAMA
This work is licensed under a Creative Commons Attribution-NonCommercial 4.0 International License.